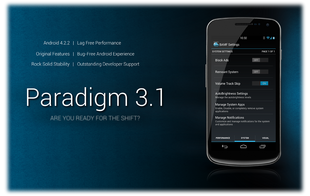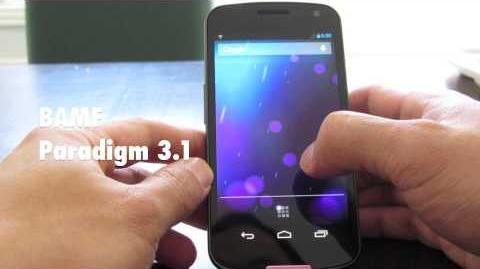 Paradigm represents the culmination of months (years) of work to bring our users the best possible AOSP experience. Using all of our previous experience with a multitude of devices and user interfaces, we aim to bring you something you just can't get anywhere else.
Are you ready for the shift?
When we set out to build this ROM, we wanted to keep the feel as stock as possible while adding as much functionality as possible. The primary concern was always stability and user experience.
BAMF DEVELOPMENTSEdit
4.2.2
T9 Dialer
BAMF LTE Widget
BAMF Torch Widget
Custom Boot Animation
Custom Navbar
Custom Lockscreen (w/ Unlimited Shortcuts)
Custom Quick Toggles
Custom Statusbar
Custom Carrier Label
BAMF Settings
Performance Settings
Ad Blocking
Automatic Brightness Levels Adjustment
App SideBar
Quiet Hours
Theme Chooser
Launcher Tweaks
Clock Icon Styles
Battery Icon Styles
SuperSU
CONTRIBUTEEdit
Hours upon hours of work goes into the development of Paradigm. The members of Team BAMF sacrifice many things to bring you a great ROM. Hours of bashing our heads against the wall, answering questions, losing sleep, getting yelled at by our wives and girlifriends, and even more importantly.. TIME WE COULD BE SPENDING DRINKING BEER. Team BAMF only exists through your support, please consider helping us with costs of operation and the all important marriage counseling!
Thanks again to Gadget! for the graphics.
CyanogenMod for paving the way.
Chainfire for his work with SuperSU.
Stericson for giving us lazy developers RootTools.
wowthatisrandom for the initial battery skins.
All of our Beta Testers (even though you made us crazy).
Our users, who waited patiently while we beat our heads against the wall working on this.