(8 intermediate revisions by one other user not shown)
Line 1:
Line 1:
 

[[File:AOSPPURE.png|thumb|250px]]

 

[[File:AOSPPURE.png|thumb|250px]]

 
+
 
+

==ABOUT==

 
+

This ROM includes the Bionic commits from Primerunner. This ROM is as close as AOSP as possible. This ROM is meant to be a fast ROM. Hope you guys like it.

 
+
 
+

==LINKS==

 
+

:::[http://forum.xda-developers.com/showthread.php?t=2124549 XDA]

 
+

:::[http://forum.xda-developers.com/showpost.php?p=37358043&postcount=3 FAQ]

 
+
 
+

==SOURCES==

 
+

:::[http://gitorious.org/primerunner/ Primerunner]

 
+

:::[https://github.com/rascarlo Rascarlo]

 
+

:::[https://github.com/ParanoidAndroid PARANOIDANDROID]

 
+

:::[https://github.com/SaberMod Sparksco]

 
+
 
+

==FEATURES==

 
+

:::4.2.2

 
+

:::GCC 4.9

 
+

:::Enhanced Power Menu

 
+

:::Clear All Recents

 
+

:::Expanded Desktop

 
+

:::Dark Contacts & MMS

 
+

:::Bionic Commits

 
+

:::Highly Optimized

 
+
 
+

==THANKS==

 
+

:::MMuzzy for helping me to get it built correctly.

 
+

:::Simms22 for testing it.

 
+

:::freerunner for his sources.

 
+

:::rascarlo for his sources.

 
+

:::sparksco for his sources.

 
+

:::Google for ANDROID!!!

 
+

:::...and everyone else that loved my bionicdfuc kkkrasbean builds that encouraged me to do this!

 
+

[[Category:4.9 Toolchains]]

 
+

[[Category:Expanded Desktop]]

 
+

[[Category:Stock Kernel]]

 
+

[[Category:Linaro]]
---
Latest revision as of 15:09, 20 July 2013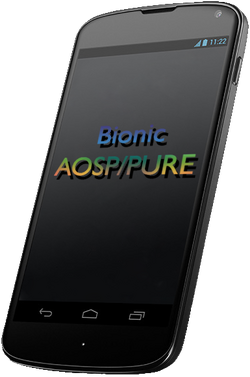 This ROM includes the Bionic commits from Primerunner. This ROM is as close as AOSP as possible. This ROM is meant to be a fast ROM. Hope you guys like it.
4.2.2
GCC 4.9
Enhanced Power Menu
Clear All Recents
Expanded Desktop
Dark Contacts & MMS
Bionic Commits
Highly Optimized
MMuzzy for helping me to get it built correctly.
Simms22 for testing it.
freerunner for his sources.
rascarlo for his sources.
sparksco for his sources.
Google for ANDROID!!!
...and everyone else that loved my bionicdfuc kkkrasbean builds that encouraged me to do this!
Community content is available under
CC-BY-SA
unless otherwise noted.