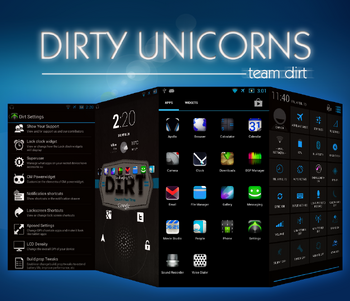 INFORMATION
Edit
Some of you may be familiar with Team D.I.R.T.s work. Most of their work has been done on various HTC devices. I was admiring their work on the "Dirty Unicorns" for the Evo3D a while back and wanted to get it running for our Nexus 4.
The main goal of this ROM is to have the latest and greatest features all under one ROM. Team D.I.R.T. and I, do not take any credit for any of the work that's associated with this ROM. With all due respect to those that are originally responsible for the code used in this ROM, they have simply taken something that was good and in my opinion, made it a little better.
4.2.2
PA PIE
PA Halo
PA Hybrid
Expanded Desktop
Profiles
LCD Density
Dark & Dirty
Powerwidget
Statusbar Auto-Hide
Custom Boot Animation
Custom Softkeys
Disable Low Battery Dialogue
Permissions Management
Lockscreen Tint Color
CM Camera (Voice Shutter)
CM Apps
Quick Emoji
Facebook Sync Hack
Neither myself or Team D.I.R.T. take credit for the original code used in this ROM. However I would also like to give credit and thanks to other individuals that have helped contribute to this ROM.
AOKP / Team Kang
CyanogenMod
Paranoidandroid
Preludedrew
Tomzefi
NYCHitman1
Tommytomatoe
JMZtaylor
bigwillyg
ChaOS Team
CarbonROM
Rohan32
LorDClockaN
Liquidsmooth
Dastin1015
Bajee11
SlimROMs
Ramjet73
Sean8172
Thyrus
TUN_SD
Daxxmax
Beerbong
I would also like to give thanks to everyone that supports Team D.I.R.T. Thank you!!
Community content is available under
CC-BY-SA
unless otherwise noted.