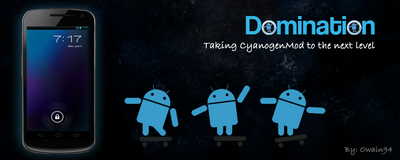 It all started back in the good old Gingerbread days. I Owned a LG Optimus 2x (p990) and there was a great 'KANG king'. Everybody loved him he had the best CM-7 KANGs he listened to everybody some people here will know him the great Temasek!. He made new builds everyday sometimes multiple times a day! Then there was the day he told everybody he wanted to take some time off (and maybe even stop with the public KANG'ing).
I decided someone had to take over his great work. I began a Ice Cream Sandwich KANG for the LG Optimus 2x. It was so popular I made a new build almost everyday. I began cherry-picking from Cyanogenmod and AOKP. But i still missed some features I really would like to have... So i decided to make them myself!
The ROM became bigger, bigger & bigger (speaking about source). Now the ROM is a mixture among all the big major Android ROMS out there. AOKP, CM, sgt7, TeamEOS, TeamBAKED, CNA, LiquidSmooth, PA and many more. I still make features myself but the most time I am merging other features.
It is one hell to keep everything working and most of all clean (settings application). Most ROMs that combine multiple ROMs, like JellyBam and PAC ROM, Include the CM settings in the settings application itself. The AOKP settings in AOKP their ROMControl application. This is in my eyes very messy you will have to search for every feature. And you probably will even miss a lot because you did just overlook them.
I try to include everything the CM way In the settings application (that what the application was meant for right?) No messy shit with multiple settings application and searching for features Everything organized in one place!
Domination also features a lot of performance improvements, kernel improvements stability improvements and a lot more It also got a lot of NEON optimized code for faster code processing on NEON enabled chip sets.
4.2.2
Cherry Picks from All Major ROMs
PA Hybrid
PA Preferences
PA Colors
Per App (UI, DPI, Colors)
Custom Softkeys
Custom Notification Drawer
Custom Navigation Ring
Custom Boot Animation
Custom Carrier Label
Rotation Settings
Transparency Settings
Hardware Acceleration
NX Gesture Navigation Bar
PropModder
Inid.d Settings
Enhanced Stock Kernel
Optimizations Throughout
If you are enjoying my work please consider donating: THANK YOU
Shu
Zowie93
Team douche
Team KANG
CNA
SGT7
TeamBAKED
TeamEOS
ParanoidAndroid
Pabx
nimrodity
Community content is available under
CC-BY-SA
unless otherwise noted.