Line 2:
Line 2:
 
 
 

==Introduction==

 

==Introduction==

−

:::Welcome to Eos 4.0!

+

:::Welcome to Eos 4.0!

 
 
−

The Eos project originated with the AOSP release of ICS, and was originally founded by Solarnz and co founded by Bigrushdog. Since then, Eos has evolved into a multinational collaborative effort backed by top Android developers. Our objective is to provide a world class AOSP build with unique features and enhancements. Eos is an ongoing development project in which builds are released on a regular basis. Every release should be considered stable and highly functional.

+

The Eos project originated with the AOSP release of ICS, and was originally founded by Solarnz and co founded by Bigrushdog. Since then, Eos has evolved into a multinational collaborative effort backed by top Android developers. Our objective is to provide a world class AOSP build with unique features and enhancements. Eos is an ongoing development project in which builds are released on a regular basis. Every release should be considered stable and highly functional.

 
 
 

==LINKS==

 

==LINKS==

Line 34:
Line 34:
 

:::Stock Kernel

 

:::Stock Kernel

 

:::Performance Settings

 

:::Performance Settings

 
+
 
+

==TEAM ROSTER==

 
+

:::Solarnz - Project founder and backend systems admin

 
+

:::Bigrushdog - Project lead, Chief Developer

 
+

:::Kevdliu - Feature Engineer, Toro maintainer

 
+

:::Timduru - Frameworks Developer, TF101 maintainer

 
+

:::Roach - Frameworks Developer - N4 maintainer

 
+

:::RaymanFX - Remote branch and Experia maintainer

 
+

:::Runandhide05 - Xoom maintainer

 
+

:::UBER - Chief Graphics Designer

 
+

:::Sykomaniac - Maguro maintainer

 
 
 

==THANKS==

 

==THANKS==
---
Revision as of 17:56, 5 June 2013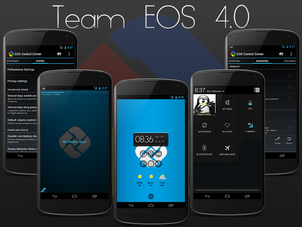 Introduction
Welcome to Eos 4.0!
The Eos project originated with the AOSP release of ICS, and was originally founded by Solarnz and co founded by Bigrushdog. Since then, Eos has evolved into a multinational collaborative effort backed by top Android developers. Our objective is to provide a world class AOSP build with unique features and enhancements. Eos is an ongoing development project in which builds are released on a regular basis. Every release should be considered stable and highly functional.
LINKS
ORIGINAL DEVELOPMENT
NX Gesture Navigation Bar
FEATURES
4.2.2
Custom Quick Toggles w/ Brightness & Volume Seekbars
Custom Navbar
Custom Power Menu
Softkeys Long-Press Actions
EOS Statusbar Toggles
Battery Icon Styles
Clock Icon Styles
Auto Navbar Transparency
Navbar Height
T9 Dialer
Soft Key Positioning
T-Mobile Theme Engine
Expanded Desktop
Switch Volume Keys on Rotation
Eos Control Center
Stock Kernel
Performance Settings
TEAM ROSTER
Solarnz - Project founder and backend systems admin
Bigrushdog - Project lead, Chief Developer
Kevdliu - Feature Engineer, Toro maintainer
Timduru - Frameworks Developer, TF101 maintainer
Roach - Frameworks Developer - N4 maintainer
RaymanFX - Remote branch and Experia maintainer
Runandhide05 - Xoom maintainer
UBER - Chief Graphics Designer
Sykomaniac - Maguro maintainer
THANKS
We give love and much respect to Cyanogenmod. The AOSP scene would not exist as it does today without them. We implement some of their branches to support legacy devices and features that users have demanded.