(Adding categories)

 

Line 79:
Line 79:
 

[[Category:Enhanced Stock Kernel]]

 

[[Category:Enhanced Stock Kernel]]

 

[[Category:Simple GPU Governor]]

 

[[Category:Simple GPU Governor]]

 
+

[[Category:Hotplugging]]
---
Latest revision as of 12:52, 9 July 2013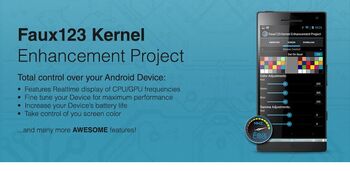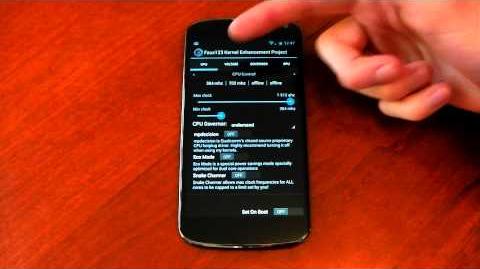 The Kernel Source is of course covered under GPL version 2. Free software does NOT mean no work or time was spent working on it. I have donated a large sum of my free time to hack this kernel. If you use my modified kernel source in parts or in its entirety, I kindly ask you mention its origins and to send me a github pull request or PM whenever you find bugs or think you can help improve my kernel hack further. This way the entire community will truly benefit from the spirit of open source. Thank you!
4.2.2
OTA Updates
Intellidemand
Governor Control
Voltage Control
Hotplug Control
CPU Overclocking // Underclocking
GPU Overclocking // Underclocking
Simple GPU Governor
IO Scheduler
FSync
GPU Vsync
Haptic Feedback Strength
Thermal Throttle Threshold
USB OTG Charge Control
USB Fast Charge
Headphones Volume Boost
Headset Gain
Speaker Amp Controls
Microphone Amp Controls
WiFi Power Management Control
TCP Congestion Avoidance Algorithm
RGB Control
Gamma Control
Power Modes
Read Ahead Buffer Size
All app purchases & contributions are greatly appreciated. Thank you!
This is my twenty-third kernel hack. I want to thank T0dbld, Turl and rest of my teammates, and several others I cannot recall for inspiring me to venture into this unfamiliar territory for me.
Community content is available under
CC-BY-SA
unless otherwise noted.