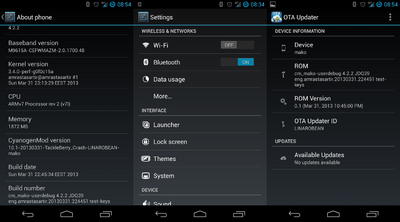 LINAROBEAN is a CM10.1 based ROM, which is built with Linaro 4.7 toolchain 2013.05. It has the stability and usability of CM and the speed of Linaro, plus some useful modifications.
I have been on so many ROMs to this date and CM was pretty much always where I was settled on every phone. Not so ago I decided to build my own Nightlies with some cherry-picks here and there, then it came the Linaro builds. Thanks to trailblazerz11, I have merged my own CM repo with Linaro + Bionic patches and here we are...
4.2.2
GCC 4.7
BatteryBar
Navbar Height
Statusbar Auto-Hide
Custom Carrier Label
Advanced Reboot
OTA (OTAUPDATECenter)
Enhanced Stock Kernel
Bionic, Krait & ARMv7 Optimizations
Performance Enhancements
Cyanogenmod for making the CM10.1 possible
Linaro for the 4.7 toolchain
Google for the Android...
Evan McClain for Linaro patches
codeworkx for patches
bricked for kernel patches
CMXLOG for the CM10.1 Changelogs
kszaq for the pointers on Linaro 2013.03 update and bionic updates
trailblazerz11 for his work
etoD for the blazing fast hosting for the builds
Burak Duman for the Boot Animation & Graphics
...and many more people somehow, somewhat contributed to these builds....
Community content is available under
CC-BY-SA
unless otherwise noted.