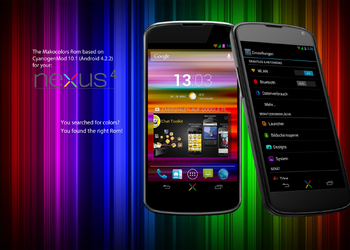 I love Vanilla Android, but am I the only one, who thinks that it is a little bit "uncolorful"? I decided to publish my ROM with more colors and other changes... so flash and enjoy.
4.2.2
Based on Schubi's Builds
Heavy Theming
Black System Background
Colored Settings Icons
Colored Quick Settings
Colored Statusbar
Colored LockscreenWave
Colored Phone.apk
Colored MMS.apk
Statusbar Design Changes
PA Halo
Themed Navbar
Custom Boot Animation
BatteryBar
App SideBar
Navbar Height
Notification Behavior
Disable Low Battery Dialogue
Disable Fullscreen Keyboard
OpenPDroid
Google - for an Open Source Android!
CyanogenMod
Schubi - for the base of my ROM
Phil1405 - for the cover picture
finnq - for Server
Android-Hilfe.de
Community content is available under
CC-BY-SA
unless otherwise noted.