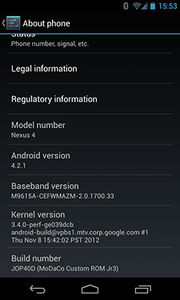 ABOUT
[
]
MoDaCo Custom ROMs are based on official ROMs. A MCR release is designed to feel like a stock ROM with optimisations, tweaks and complimentary additions that enhance the user experience. The aim of a MCR is to be ultra reliable for use on an everyday device.
LINKS
[
]
FEATURES
[
]
4.2.2
Enhanced Quick Toggles
Enhanced Power Menu
Legacy PlayStore
Legacy Browser & Flash
Patched Google Wallet
Facebook Sync Support
Init.d Support
Custom Boot Animation
Custom LED Notifications
Alternative UI Options
Disable Camera Shutter Sound
T9 Dialer
FUTURE UPDATES
[
]
By providing this ROM I am not guaranteeing that future updates will follow. Due to limits on my time and the fact that I have a large number of devices for short periods of time, it isn't possible for me to continue providing ROM updates indefinitely.
THANKS
[
]
It's impossible to mention everyone who contributes to the Android community by name, but to everyone out there who does great work and shares it with us all - you have my gratitude and respect.