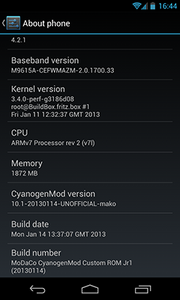 MoDaCo CyanogenMod Custom ROMs are based on CyanogenMod Nightly ROMs. While a MCR release is designed to feel like a stock ROM with optimizations, tweaks and complimentary additions that enhance the user experience and the aim of a MCR is to be ultra reliable for use on an everyday device, a MoDaCo CyanogenMod Custom ROM blends the great tweaks and features of CyanogenMod with the goodness of a MCR to hopefully create a 'best of both worlds'.
4.2.2
Legacy PlayStore
Legacy Browser & Flash
Patched Google Wallet
Facebook Sync Support
Init.d Support
Custom Boot Animation
Alternative UI Options
Disable Camera Shutter Sound
FUTURE UPDATES
Edit
By providing this ROM I am not guaranteeing that future updates will follow. Due to limits on my time and the fact that I have a large number of devices for short periods of time, it isn't possible for me to continue providing ROM updates indefinitely.
It's impossible to mention everyone who contributes to the Android community by name, but to everyone out there who does great work and shares it with us all - you have my gratitude and respect.
Community content is available under
CC-BY-SA
unless otherwise noted.