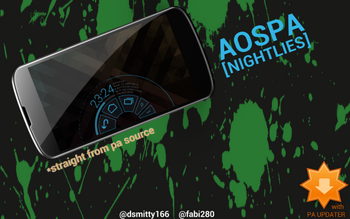 This is for ParanoidAndroid nightly builds. They're straight from PA source, so they will function exactly the same way. We are just compiling this so Moles can focus on current developments.
4.2.2
PA Preferences
PA PIE
PA Halo
PA Hybrid
PA Colors
Per App (UI, DPI, Colors)
Expand Notifications
Expanded Desktop (+Toggle)
Custom Quick Toggles
Custom LED Notifications
Custom Lockscreen
Custom Boot Animation
Quick Pulldown
Circle Battery
Transparency Settings
Rotation Settings
Dynamic Tiles
Privacy Guard
Lockscreen See Through
Automatic Brightness Levels Adjustment
PA Wallpapers
Theme Chooser
OTA (PA Updater)
Koush's Superuser
Enhanced Stock Kernel (Courtesy of Franco)
CM/AOKP Cherry Picks
GCC 4.7.3
Numerous Performance Enhancements
AOSP/Google, Cyanogenmod, Goo, XDA, Krebsmilk, giannisgx89, Liquid, AOKP, our users, supporters and donators, everyone who's helped us in the past, heartfelt thanks to all of you!
Community content is available under
CC-BY-SA
unless otherwise noted.