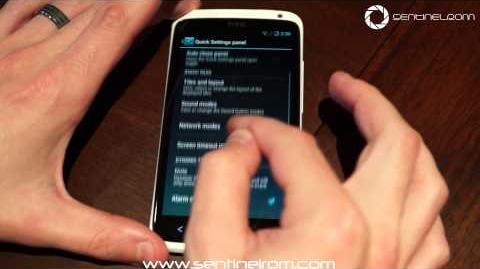 Welcome to SentinelROM for Nexus 4. Compiled with Linaro toolchain from modded CM10.1 source. Android 4.2.2. This is one of the most popular ROMs for Nexus 10 and Nexus 7, and after a month of hard work and optimization, I am happy to release it for Nexus 4.
The ROM has been built to enhance the CyanogenMod 10.1 experience, with faster gaming and web browsing performance. Countless hours have been spent making tweaks to settings to squeeze the most performance I can find out of this ROM while still providing excellent battery life and without the dangers of overclocking and kernel level tweaking.
I compile this ROM and Kernel from the latest CyanogenMod source code, add my various tweaks and adjustments, then test for stability, so you get all the benefits of CyanogenMod 10.1, plus my tweaks and extras, all without the instability and inconvenience of flashing CyanogenMod Nightlies, which are not designed specifically for the Nexus 4 like my ROM is.
My aim is to keep this ROM as clean as possible, with no added bloatware or unnecessary tweaks. Users are always welcome to add their own tweaks, or install custom Kernels, etc. Any tweaks that work with CM10.1 will also work with SentinelROM.
4.2.2
GCC 4.8
Zipaligned
OTA Updates
Additional Theming & Custom UI
Improved Performance & Stability
Enhanced Stock Kernel
Also please consider a donation if you like my work. All donations for May and June are going to the family of my friend who was diagnosed with brain cancer last year to assist with medical costs. Details on my website. Thanks!
A huge thanks to my Nexus 4 testing crew! You guys make this ROM possible! In particular Max, Vangelis13 and yyz71
Thanks very much to all those who have answered my questions through the process of creating my own ROM, you know who you are.
CyanogenMod for their outstanding work. Full credit to them for the bulk of this ROM.
OTA-UpdateCenter.pro for their OTA database support and OTA Updater app source.
Community content is available under
CC-BY-SA
unless otherwise noted.