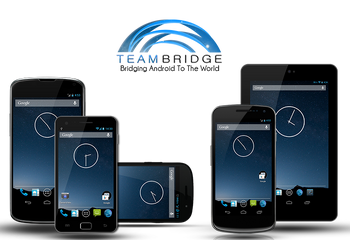 ABOUT
ThinkingBridge ROM is an Android aftermarket firmware which is built with the purpose to offer maximum stability, high performance & an appealing User Interface.
This ROM is based on The Android Open Source Project (AOSP), CyanogenMod & AOKP code. We are here to contribute to the Android Open Source world and provide our users with the Best-Of-Android.
LINKS
FEATURES
4.2.2
ThinkingBridge Welcome App
ThinkingBridge Wallpapers App
DSP Manager
Custom Quick Toggles
Custom Power Menu
Custom Navbar
Custom Navigation Ring
Custom Lockscreen
Custom Boot Animation
Custom Carrier Label
Custom Camera Features
StatusBar Brightness Slider
Transparency Settings
UI Mode
Dual Panel Mode
PA Pie
Battery Icon Styles
Clock Icon Styles
Sound Options
Theme Chooser
Parition Info
CPU Settings
Koush's Superuser
4-Way Reboot
Above are the features clearly visible to your eyes but still a full list of Kernel and Script Optimizations is still not mentioned.
THANKSGIVING
CyanogenMod
AOKP
daxxmax
ParanoidAndroid
evilisto